Refill Eco Systems Limited
At Refill Eco Systems Limited (Refill Eco), we are working hard to make it easier for consumers and manufacturers alike to embrace refill packaging instead of single-use plastic packaging. Plastic packaging, single-use material designed for immediate disposal, is the largest industrial sector for plastic production: over 35% of plastics produced globally. In 2015, nearly 50% of the plastic waste generated globally was plastic packaging. 79% of all plastic waste ever generated is estimated to sit somewhere in the environment, a landfill, or a dump. About 12% has been incinerated, while only 9% has ever been recycled.
Plastic packaging is convenient and cheap but single-use plastic packaging waste is today one of our planet's greatest environmental challenges. From polluting marine life, breeding diseases, flooding cities to contaminating the soil and the food chain, the negative impact of single-use plastics on our ecosystem cannot be overemphasized. Plastic waste is mostly non-biodegradable with some taking a thousand years to decompose, toxifying the environment in the process. 
HOME CARE & PERSONAL CARE PRODUCTS
Most liquid household cleaning and personal care products are packaged in single-use plastics. Liquid detergents, fabric conditioners, and wash-up liquids, just to mention a few, are cleaning products we use regularly in our households with single-use plastic packaging that mostly end-up somewhere harming the environment.
Reduce Single-Use Plastic Packaging
A reduction in the number of single-use plastic packaging within our households will be a step in the right direction in solving the problem of single-use plastics waste to our environment. Helping manufacturers and consumers alike to find an environmentally friendly alternative to single-use plastic packaging will be a great way to preventing the problem.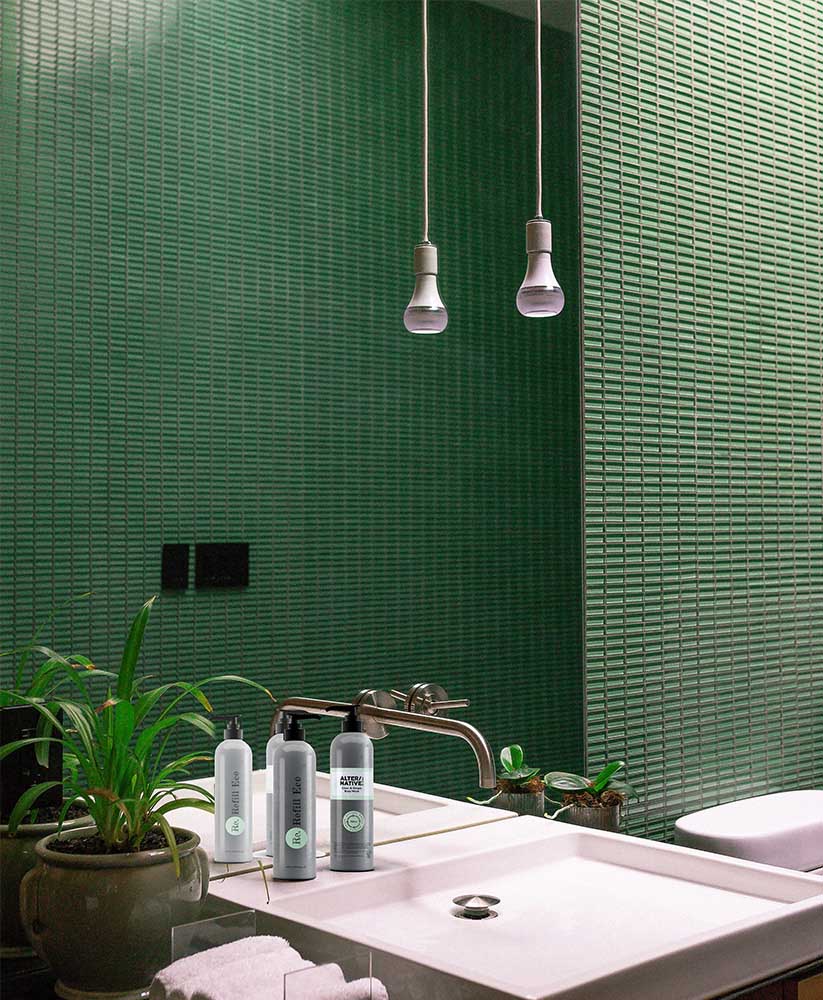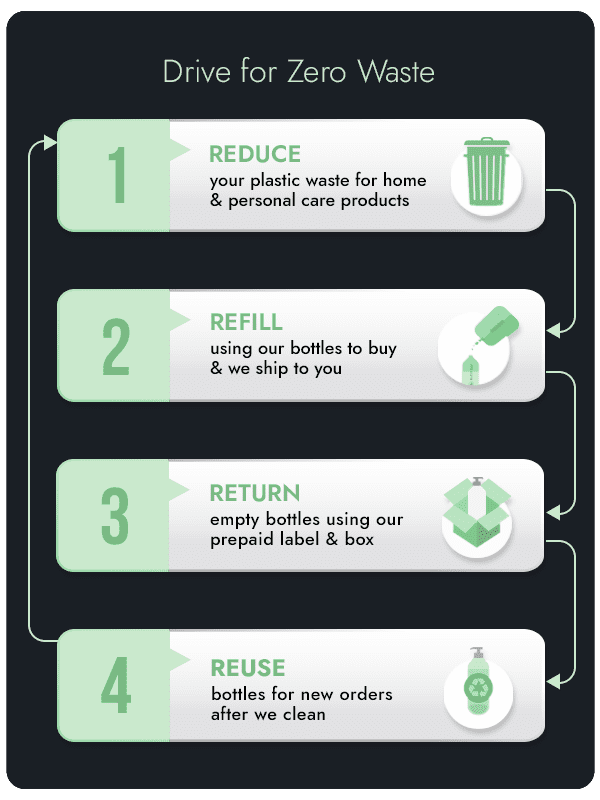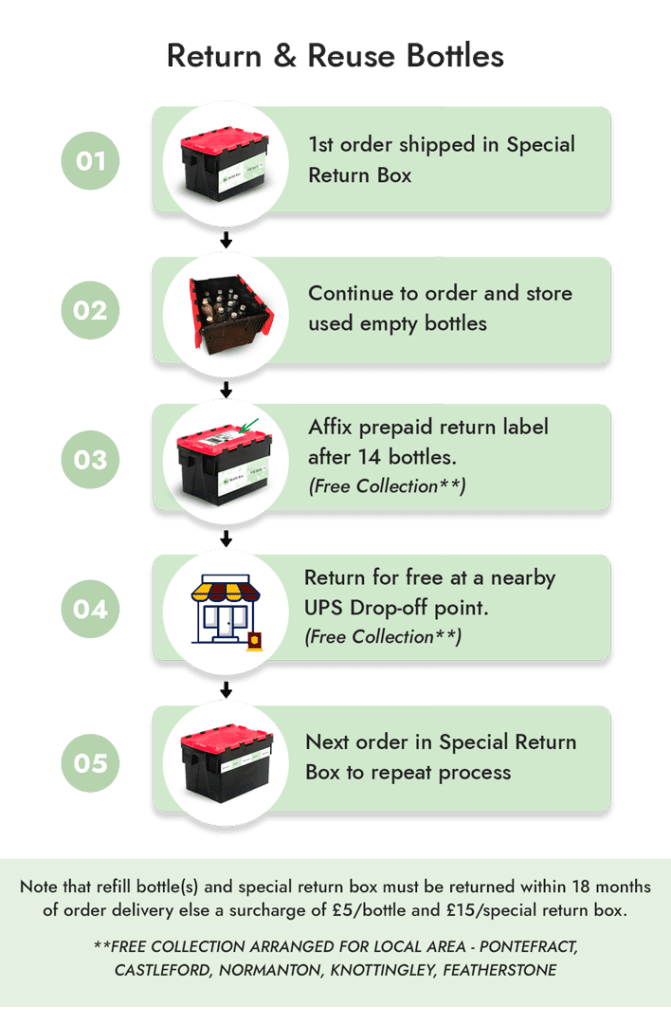 Reduce your use of single-use plastic packaging
Our solution aims to help you reduce your use of single-use plastic packaging and help save the environment from plastic waste. 
Refill online when you order your next eco-friendly home & personal care products
At Refilleco.uk you can purchase your favourite eco-friendly household cleaning and personal care products in our refill glass and aluminium bottle, respectively. We stock several eco-friendly home and personal care brands in bulk refill packaging. Following your order, we hygienically dispense your ordered products into our refill bottle(s) with traceability and ship to you. We return empty bulk refill packaging to manufacturers for reuse. You do not pay to use our refill bottles.
Return empty refill bottles using prepaid label
Your first order is shipped to you in a SPECIAL RETURN BOX – made of recycled plastic. You store the empty refill bottles in this box after use.
Once you have ordered products with 14 or more refill bottles, we send a prepaid return label, which you will affix on top of the SPECIAL RETURN BOX and use to return a minimum of 14 empty bottles by dropping off the box with the empty bottles at a UPS DROP-OFF POINT near you for FREE.
Your next order will be shipped using the SPECIAL RETURN BOX so you can repeat the process again and continue protecting the environment from plastic waste.
If you do not accumulate up to 14 bottles within 17 months of order delivery we will email you a prepaid return label for you to return the bottles you have for free. 
Note that refill bottle(s) and special return box must be returned within 18 months of order delivery else a surcharge of £5/bottle and £15/special return box.send
Reuse refill bottles for new orders
Once we receive the empty bottles, we sterile clean them and reuse them for new orders. We also reuse or recycle the packaging box. This is our drive for zero waste.
Brands We Stock
We make all our own products right here in the UK and we have complete traceability on all the ingredients we use so we know they are ethically and sustainably sourced.
Our uncompromising standards have been recognised by a number of awards over the years and we are proud to be endorsed by Cruelty Free International, The Vegan Society, and Allergy UK.
We're also the only green cleaning company whose products meet the standards for commercial food preparation otherwise known as BSEN1276.
Established in 1974, here at Faith In Nature we believe in harnessing the power of nature without harming it in the process. Our products are made using the highest quality, naturally derived, cruelty-free ingredients, with 100% natural fragrance – and they work beautifully. Wherever possible we use organic ingredients. Because Natural, Vegan, Cruelty Free and Ethical aren't just buzzwords to us.
They're the basis of everything we do.
We're proud that one of the things people love most about our products is how wonderful they smell. But the credit should really go to nature — because everything we make has 100% natural fragrance.
We use the cleaning power of natural raw materials, almost half of which are already organic. In our East Frisian eco-farm, we produce verifiably CO 2 -neutral, for more climate protection and less greenhouse effect. We do not use microplastics or water-soluble plastics in our products. Petrochemical ingredients are a no-go for us to maintain the ecological balance and natural resources.
When it comes to cutting oil, chemicals and plastics from your home cleaning routine, Ecoleaf by Suma is here for you, offering sustainable household products.
We've been on a mission to make cleaning greener for years. Ecoleaf cleaning products are totally plant-based, so they're not just great at their job, they're natural and vegan too.
You can rely on us for high quality cleaning products that are good for your home and the planet.
We're all natives of this little blue planet. As the climate crisis becomes more apparent, it's clear we need to practice new, sustainable alternatives in our everyday lifestyle choices.
Here at Suma we've always done things a bit differently. Vegetarianism, sustainability and co-operation are at our heart, so we like to put these values in practice. When we talk about ethics, we mean business.
ALTER/NATIVE by Suma, our new body care range, offers an alternative to the highly processed soaps and shampoos you find on the high street. By harnessing the power of plants, we've created some gorgeous products that are great for your hair and your skin, as well as the planet.
Everything in our range is vegan and cruelty free, made with essential oils and free from nasties. What's more, they're made in the UK, and by local, small craft makers wherever possible.
ALTER/NATIVE by Suma loves your skin and respects our planet. 
We offer products that are effective, natural and produced with the utmost consideration for the environment. We don't believe in using chemicals where they aren't needed, especially when there is a good natural alternative.
Unsurprisingly enough, we don't believe in testing on our animal friends. We have been Leaping Bunny certified since 2011 and rigorously stick by the strict standards set by Cruelty Free International.
But more than that, we're now vegan-friendly. This means that we don't use any animal or insect-derived substances in any of our products. Because the animal industry has significant environmental impacts on water systems, land use and climate change.